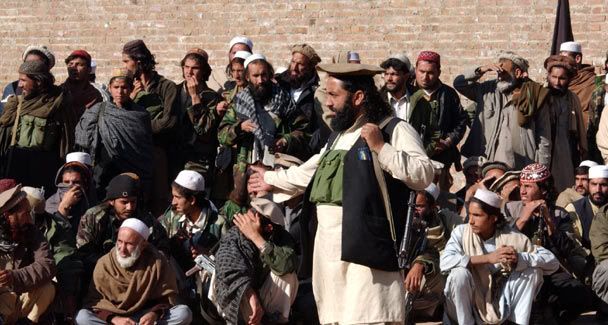 Would-be suicide bombers speak of militant training

Thursday, 06 Aug, 2009
KHWAZAKHELA: The scars may take years to heal for Hamad Ahmad, one of many Pakistani boys purportedly brainwashed by the Taliban and determined to enact maximum carnage as a suicide bomber.
His mind trained on violence and his heart full of God, Ahmad says he wants to carry a pistol and strap explosives to his body in the name of Islamic law – not hold books and wear school uniform.
'I am ready to carry out a suicide attack against any target with approval of my ameer (chief),' said 15-year-old Hamad, who claimed he received 40 days of training from the Taliban after being snatched last year.
Hamad, who talked to AFP by telephone from Qambar village in Swat, is now among a group of teenagers being treated by military psychiatrists in the wake of the latest air and ground assault against the Taliban in the valley.
Hamad's father, Furqan Ahmad, found his son receiving militant training in the northern Swat town of Charbagh last February, two months after he mysteriously disappeared and before the latest military offensive began.
'My son disappeared in December after I thrashed him for carrying a pistol,' said Furqan, a bank employee. 'I was able to get him back with the help of a Taliban commander, who was known to me.'
'The Taliban completely brainwashed my son, who was studying in ninth grade. He is now even more violent and doesn't let his mother and sisters watch TV, calling it un-Islamic,' Furqan said.
Radical cleric Maulana Fazlullah led thousands of ideologues and disenfranchised young men in a brutal uprising across Swat to enforce sharia law, beheading opponents, burning schools and fighting government forces.
Commanders say more than 1,800 militants and 166 soldiers were killed in the latest blistering military assault designed to dislodge the Taliban from Swat, but Hamad refuses to stare defeat in the face, saying God is on their side.
'Any one who stops or becomes an impediment to implementing sharia needs to be dealt with sternly by any means, including suicide attacks,' he said.
'They are fully protected by Allah the almighty,' he said. Following in their foot prints is a 'ticket to heaven', he added.
Seemingly never-ending tales of terror abound in Swat, where the military has fought against Taliban foot soldiers since Fazlullah rose up two years ago and where parents speak of being forced to surrender young boys.
Heavy death tolls released by the military from the summer offensive are impossible to confirm. None of the most-wanted Taliban leadership in Swat have been killed or captured. The military have slammed the training of children.
'We have contacts with about 100 children who are living with their parents. They visit us routinely and a psychiatrist sees them regularly,' said military spokesman Major Nasir Ali Khan in Khwazakhela, a town in northern Swat.
But the precise numbers are unclear. Top military spokesman Major General Athar Abbas confirmed recently 11 boys trained as suicide bombers were taken into custody. Other officials charged that hundreds of boys were recruited.
No Taliban spokesmen or commanders were reachable for comment.
Boys told military officials that a foreigner, probably an Uzbek, used to impart training to them for suicide attacks.
Khan said the Taliban training came in three parts. For two weeks boys were taught to provide tip offs about security force manoeuvres. Then came a 40-day militant training and lastly, training in the art of becoming a suicide bomber.
In Khwazakhela, the military took reporters into a dimly lit room, once used as science laboratory, to speak to boys – masked to protect their identity.
'The Taliban took me to Charbagh at gunpoint and later to Matta where they set up a training camp inside a government school,' said one 16-year-old.
'There were at least 30 men who used to train us in Matta,' said the youth, a small beard already growing on his face.
'They used to say there is a great reward in heaven for anyone slaughtering a soldier and same reward if you slaughter someone telling you it is wrong,' added the boy, who said he escaped back to his parents.
Source