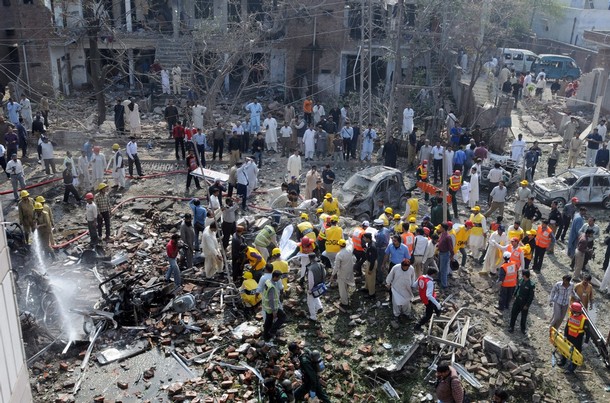 From Dawn News:

Thursday, 28 May, 2009 | 06:02 PM PST

PESHAWAR: Tehrik-i-Taliban Pakistan (TTP) claimed responsibility on Thursday for a suicide gun and bomb attack in Lahore the previous day that killed 26 people and wounded over 100.
'We have achieved our target. We were looking for this target for a long time. It was a reaction to the Swat operation,' Hakimullah Mehsud, a militant commander and deputy to TTP chief Baitullah Mehsud, told Reuters by telephone from an undisclosed location, referring to an army offensive in the Swat region.
Hakimullah Mehsud threatened similar attacks in other Pakistani cities, the BBC reported.
'Residents should leave the cities of Islamabad, Rawalpindi, Lahore and Multan,' he was quoted by the BBC as saying.
Another group calling itself the Tehrik-i-Taliban Punjab also claimed responsibility for the attack.
The group took the blame in a Turkish-language communique posted on Turkish militant websites through an organisation called Elif Media on Wednesday, the SITE Intelligence Group said.
The SITE cited the group as saying the attack 'targeted the 'nest of evil' in Lahore, and was a 'humble gift' to the mujahideen who suffer beneath the attacks of Pakistani forces in Swat.'
It specified that a vehicle laden with 100 kilos of explosives was blown up outside a security building in Lahore, the capital of Punjab province in Pakistan, destroying the building and injuring hundreds more.
'Tehrik-i-Taliban Punjab asks Muslims in Pakistan to stay away from areas where the enemy is 'taking advantage' of them, so that they are not harmed by jihadi attacks,' SITE added.
The claim could not be verified, and the militant group's relationship to the Taliban was unclear.
Meanwhile, a top Pakistani security official said that while a similar claim emerged over a Shia mosque bombing that killed 22 people on April 5, investigators believed no such organisation exists.
'It is merely a deception. It is an extension of Tehrik-i-Taliban (TTP) of Waziristan,' the security official told AFP on condition of anonymity.
'TTP wants terrorists to strike in Punjab but does not have an organisational structure — Tehrik-i-Taliban in Punjab. There is no independent group like this,' said the security official.
The blast was the third deadly attack to rock Lahore in as many months.
A senior investigator told AFP the attack was the likely handiwork of Al-Qaeda linked Taliban militants operating from Pakistan's Waziristan region.
One of the attackers was shot dead by security guards as he approached the building, and two others perished in the explosion, the investigator said.