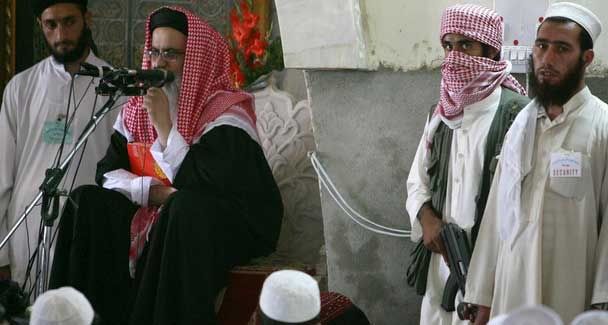 The following is from Dawn News:
ISLAMABAD: The recently released Khateeb of Lal Masjid (Red Mosque) Maulana Abdul Aziz has said that whatever situation has emerged in the troubled areas of Swat, Buner and Dir was a reaction of a military operation conducted on the mosque in 2007.

Talking to Dawn he said most of the students of Lal Masjid who suffered due to the operation belonged to those areas and now they were taking their revenge.
'I had warned the then government not to go for the military operation on the mosque otherwise the situation would get out of control and I will not be responsible for the reaction,' he said.
'Most of my students belonged to Swat, Buner, Dir and some nearby areas and they are reacting and taking revenge of the blood of their relatives and friends,' Aziz said while expressing ignorance about the exact number deaths in the mosque during the operation.
'Now they are not under my control and whatever they are doing in Swat and Buner is their own decision,' he said when asked why he does not ask his students to keep themselves away from militants.
Aziz was of the view that hundreds of people were killed, including women and children, in the Lal Masjid operation that also claimed the lives of 10 security personnel.
However, former President Gen (retd) Pervez Musharraf had recently said that a total of 94 people were killed by the security forces in the operation and they all were armed militants. He claimed that not a single woman and child was killed in that incident.
Coincidently Aziz has been released on bail simultaneously with the approval of the Swat deal by President Asif Ali Zardari despite the fact that he was facing 26 different cases.
A day after his return to Lal Masjid, the controversial cleric called for a movement to implement Sharia in Pakistan.
Meanwhile, the intolerant behaviour of Lal Masjid students and display of arms are again back in the heart of the federal capital.
It is believed that Aziz was released under a 'deal' as he vowed not to seek any action against those who, according to him, were responsible for July 2007 Lal Masjid operation. The cleric claimed his release was not part of any deal with the government.
He said he had never supported suicide bombings in the country and he had only threatened the government by saying that: 'If any operation is conducted at Lal Masjid suicide attacks could take place through the country.'
Responding to a question about whether his students were involved in suicide bombings in the country, he said: 'As far as my students are concerned I know that they cannot commit suicide for any reason but I cannot guarantee what they are doing in their native towns.'